This is a sponsored post. When you support our advertisers, you help to keep our site in business, bringing you the best deals and free events in Seattle and around the Puget Sound region. Sponsored by: Cherry Hill Programs (whereissanta.com). Read full disclosure: Privacy Policy – Affiliate Program Participation (greaterseattleonthecheap.com).
Getting photos with Santa at the mall is a timeless tradition, and the perfect way to celebrate the holiday season. With a bit of planning, you can enjoy no lines and no fuss – just friendly staff, a jolly Santa, and the most heartwarming photos to capture the moment!
It can be hard enough to get a good photo with Santa and your kids – between nap time, mealtimes, and sometimes fear of strangers, parents never know what to expect with Santa pictures. While no one can promise your kids won't cry, being able to schedule it around the best time for your kids will give you the best chance!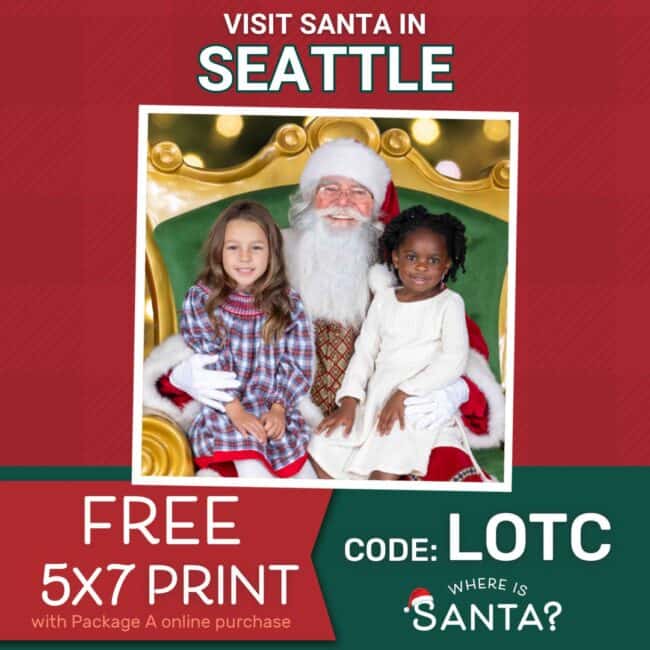 Where is Santa in the Seattle area?
Reservations are strongly encouraged. Walk-ups may be available (but you may have to wait…and the kiddos will get cranky…just sayin'…).
To book your appointment with Santa at Seattle-Tacoma metro area malls, head to whereissanta.com.
Find Santa at your nearest location (which might be detected automatically). Or type in the nearest city to see the available list. In the Puget Sound region, you'll find "Where is Santa" appointments in malls around Seattle including Auburn, Lynnwood, Tacoma, and Tukwila.
Next, choose a date. Then choose a time for your preferred location.


Special photo options: You can also look for Sensory-friendly visits and Pet photo time slots. Tip: the best way to find these special photo opportunities is to choose the current date and earliest available time. It will then list the next available time at each location.

Finally, select your Package ($39.99 – $49.99). Can't decide? If you aren't sure which package you want, simply choose the $19.99 Package: Reserve Now Decide Later to hold your appointment. The reservation amount is applied later to the package you choose to buy.


Bonus photo: If you choose Package A ($49.99), claim a free 5×7 photo when you checkout, using code: LOTC to get a third 5 x 7 Print absolutely FREE!

Schedule a phone call from Santa
Once you book your appointment with any Package (A, B, C, D), you'll have the opportunity to schedule a phone call from Santa to your children on his portable North Pole phone! The call is pre-recorded, so you can personalize with a few options. You can set it to call right away, or pick a time and date to receive the call. It's just one of the free extras that come with every photo package.
Ho, ho, ho! Merry Christmas!
Are your kiddos scared of Santa?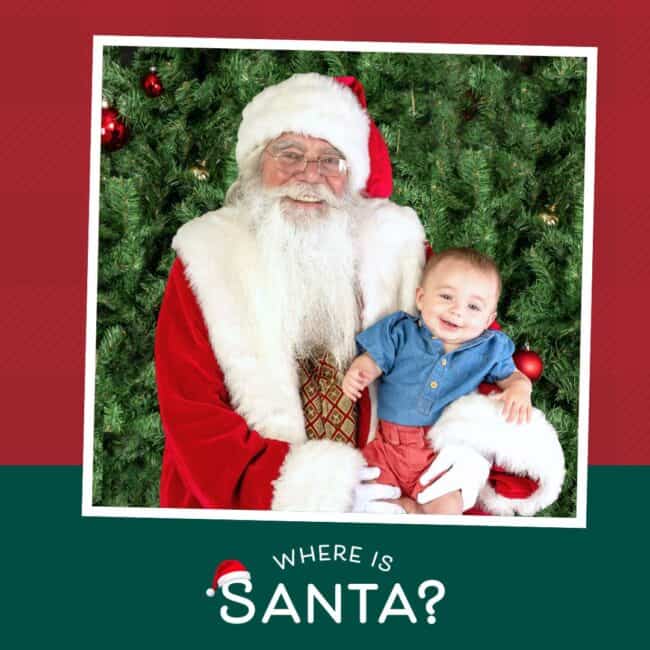 Free visits with Santa are available if your little ones aren't sure about the whole Santa thing! Children are welcome to talk with Santa without taking photos at no charge! (Note: no BYOC…parents aren't permitted to take photos during a free visit). This is a GREAT way to introduce timid children to the Big Red Guy with a Beard without the pressure of getting a perfect photo. They can stay as far away as they want or talk to him while holding your hand or from the comfort of your arms.
Where is Santa at Seattle area malls
Where is Santa can be found at the following malls in the Seattle area (listed north to sound in the Puget Sound region). There's one farther north in Bellingham, and Vancouver, B.C., too!
Alderwood Mall, 3000 184th Street SW, Lynnwood, WA 98037
Westfield Southcenter, 2800 Southcenter Mall, Tukwila, WA 98188
The Outlet Collection Seattle, 1101 Outlet Collection Way, Auburn, WA 98001
Tacoma Mall, 4502 S Steele St, Tacoma, WA 98409
Happy Holidays!
Mall Santa photo packages with a free phone call or free visits
When
November 16, 2023-December 24, 2023
What
Mall Santa photo packages with a free phone call or free visits