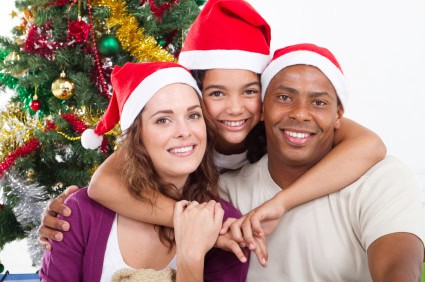 Here's a list free Santa photo opportunities. They include holiday festivals and community events that include a visit from Santa. Many of the free Santa photo opps are BYOC: bring your own camera.
There are a number of unique settings for photos, among Christmas trees, with reindeer, and even underwater (it is the Puget Sound region, after all).
Professional Santa photos start around $25. Lines at the busiest malls are generally shorter early: early in December, early in the week, and early in the day.
The big red guy gets around. We found him in locations from Stanwood to Puyallup. All that, and toys, too. We're indubitably impressed.
Free, DIY, and low cost opportunities for a photo with Santa
BYOC=Bring Your Own Camera
Brian Thompson Photography in Snohomish is celebrating 9 years of Santa by offering TWO FREE 5×7's added to all new clients who purchase any Santa package. Photos are taken in their Santa Room, full of visual holiday excitement from a life-like reindeer to a Russel Wilson Santa. And be sure to not miss dancing Santa, sure to bring your holiday spirit to life. Their friendly Santa puts kids at ease, ensuring fine quality, professionally printed images. Plus, hot chocolate and cookies fresh and warm. Just as Santa likes. More info or appointments: mysnohomishsanta.com
Pike Place Market in Seattle. Saturday after Thanksgiving, 11am-5:30pm. Celebrate the holiday season at the annual Magic in the Market with BYOC photos with Santa, tree lighting ceremony, festive music and cookie decorating.
Tulalip Tree Festival Open House. November 29, 2017 from 1-6 PM in the Tulalip Resort Orca Ballroom. The annual Festival of Trees opens its doors to the community to view the beautifully decorated holiday trees and wreaths. Sip on refreshments and enjoy cookies while watching local community groups perform. Children's crafts begin at 3 PM, and BYOC photos with Santa.
Wintertide Celebration at Everett Performing Arts Center. November 30, 2017 from 4 p.m. to 7 p.m. Santa arrives at 5:30 p.m. Free rides on the Rotary Express Train. Arts and crafts with Village Theatre and Imagine Children's Museum. Holiday photo booth. KIDSTAGE performances of Aladdin KIDS – 5 & 6:30 pm. BYOC photos with Santa. Free hot apple cider, cocoa and cookies by the bonfire
Watson's Greenhouse in Puyallup. Santa visits Friday, December 1, 8, and 15, 2017 from 12-4pm.
Flying Heritage & Combat Armor Museum (FHCAM) in Everett. December 2, 2017 from 10am-2pm. Tanks Giving brags of a magical Santa Village, hot cocoa station, ginger bread cookie decorating for the kids, delicious food trucks, a scavenger hunt, craft stations, World of Tanks video game stations, face painting, RC Tank demo, a special showing of The Santa Clause in the theater, SNOW, and much more! Santa will be in his magical village taking professional photos with families from 11:30am-2pm free of charge. To celebrate this season of giving FHCAM has partnered with Teen Feed. This local non-profit works with the community to offer support and meet basic needs, build strong relationships, and ally with homeless youth as they meet their future off the streets. Bring in an item off the list below to receive FREE entry into Tanks Giving! One free admission per item donated. Items needed this holiday season include new or gently used sleeping bags (portable, waterproof covers), tents and tarps, rain gear, backpacks, hooded sweatshirts (dark colors), boots and Carhart-type Workpants (large sizes), hats, gloves, hand warmers, packs of paired wool socks, flat of ramen noodle cups, Costco size Granola bars, nuts, healthy protein snacks, and $20 gift cards to Walgreens, Target and Goodwill. Cash donations are welcome as well! All charitable gifts to help those who need it the most this holiday season. Regular admission: $14 Adults, $12 Seniors (65+) and Military, $10 Youth (6-17), Free Children (5 and under).
Holiday Bazaar Day in Burien. December 2, 2017 from 10:00 am – 5:00 pm. Celebrate the Holiday Season by shopping locally for unique and on-of-a-kind gifts at this community event that includes hot treats and in-store specials. Hours: 10 am to 5 pm. FREE SANTA PHOTOS too.
Evergreen Beauty College Santa photos at the Renton and Everett campuses December 2, 2017 from 1:00pm-4:30pm. Free haircuts, mini styles, and photos with Santa. SPIRIT FM105.3 will be on-site. Come for festive fun, hot drinks and treats provided by CRISTA Camps, giveaways to the first 25 in line, and enter to win 4 admission passes to The Lights of Christmas Festival at Warm Beach Camp in Stanwood.
Mill Creek Town Center. December 2, 2017 from 2-3pm. Bring your camera and BYOC photos with Santa at the Atrium from 2-3 pm at the Town Center festival with a variety of family-friendly Christmas activities all afternoon until 8pm.
Winterfest in Woodinville December 2, 2017 from 10:00am – 4:00pm is a community celebration that includes photos with Santa Claus, courtesy of Windermere Real Estate Woodinville & Luna Anne.
Cabela's stores (north of Seattle in Tulalip and south of Seattle in Lacey) have Free Photos with Santa, Saturday, December 2, 9, and 16, 2017 from 10:00am – 4:00pm. You'll go home with a free Cabela's keepsake frame and 4″x6″ photograph with Santa.
Lynnwood Heritage Park Open House & Cookies with Santa. December 3, 2017 1:00 PM – 4:00 PM. Santa Claus will be visit the Heritage Cottage for an afternoon of friendship, coffee, hot cider and cookies. Bring the whole family for BYOC photos with Santa. Donations of canned food will go to the Lynnwood Food Bank.
Santa at the Historic Flight Foundation in Mukilteo. December 3, 2017, Noon-5pm. Come at noon for Christmas activities and home-made holiday refreshments. Take a break from holiday stress. Enjoy our special guests, the Dickens Christmas Carolers. Paint a face, make a wreath, or string popcorn or cranberries to take home for your tree. Santa will arrive at 1:30, assuming avoidance of drones and local artillery. Get your complimentary picture with the jolly old man. HFF supports Toys for Tots. We appreciate donation of any new, unwrapped toy we may pass along to a deserving child.
Camano Island Center Afternoon with Santa. December 12, 2017, 2:00pm to 6:00pm. A Free Community Event and a Camano Island Tradition.  Hot Cocoa, cookie decorating , crafts and more. BYOC photos with Santa & Mrs. Clause and the festive Mr. Bear.
The Old Cannery in Sumner. Saturday-Sunday through December 23 from 11am-4pm. Santa will be at The Old Cannery Furniture Warehouse for complimentary photos. However, you usually need to be in line by 1PM before the line is cutoff in order to finish photos for everyone who is waiting. Photos are complimentary, but donations of food and money are gratefully accepted to benefit the Sumner Food Bank.
Snohomish Free Photos with Santa, Saturday-Sunday through December 23 from 12:00 – 3:00 PM at participating stores.  BYOC photos with Santa. Check their website for a list of locations.
Bass Pro Shop Santa in Tacoma offers free picture frame and photo with Santa Wednesday, Saturday, and Sunday through December 24. Get to the store early and get a "Bass Pass" for a time slot to visit with Santa. Passes are limited and go quickly each day. While you wait, shop the store or enjoy free games, crafts, and activities in the Winter Wonderland.
Special locations for a photo with Santa
Caring Santa at Simon Malls (Northgate and Tacoma) November 19 & December 3 just for Children with Special Needs. Requires registration. Photo packages will be available for purchase.
Christmas Creek Tree Farm in North Bend. Saturday, November 25 – Sunday, December 3. Santa hours: Sat 10:30 – 3:30, Sun 11 – 3:30. Visits to Santa are free with the purchase of a tree. After you select your perfect tree, bring it over to Santa's house. Leave it to be bailed and come in and warm up by our roaring fire. No trip to the tree farm is complete without purchasing Georgia's bakery famous donuts and cookies and enjoy complementary hot apple cider or coffee. Santa will delight your children. Bring your own camera, but don't forget to ask Santa's elf's to take a family picture. Our regulars know about fast track to Santa. If you plan to visit Santa, come straight down to Santa's house when you arrive at the farm and ask the cashier for a Santa number. Then go out to pick out your tree, the Santa wait will be much shorter.
Asian American Santa at Wing Luke Museum in Seattle. December 2, 2017 from 12:00 PM – 3:00 PM. RSVP for your timed ticket beginning in November 2017. Members receive early access to registration and discounts on all photo prints. Enjoy a day of activities, cookies & cider, live music and more while you await your visit with Santa. Museum admission: Adults $17, Students $12.50, Children $10. Members and ages 4 and under are FREE.
Black Santa at NAAM in Seattle. Saturday-Sunday, first two weekends in December (December 2, 3, 9, & 10, 2018) Northwest African Amerian Museum (NAAM) hosts Black Santa. There are also a host of activities to entertain the kiddos while you wait to take your photos including arts & crafts and a movie screening. Get R.S.V.P. tickets to skip to the front of the line when you get to the museum. Museum admission is $7. Photo packages begin at $15.
Holiday Party at Museum of Flight in Seattle. Saturday, December 16, 2017, 9AM-3PM. The party begins outside, when Santa and Mrs. Claus arrive at 9:45 a.m. in an airplane and taxi right into the Museum parking lot. Everyone is welcome to meet them at the plane; bring your camera to snap a photo. The fun continues inside the Museum as they hear children's wishes, while the galleries resound with joyous music by the Boeing Concert Orchestra, Boeing Band, and special guest children's music legend Caspar Babypants at 2 p.m. There are also festive family workshops. Outdoor event is FREE. Indoor events are FREE with admission to the Museum: Adult (18-64) $21, Senior (65+) $18, Youth (5-17) $13, Age 4 and under FREE.
EverettSanta.com packages are $35 to $75 and include your photo(s) on a CD. Discount for military, baby's first Christmas, and bring a friend. Make a reservation via the website, or call 425-344-2170. Everett Santa is located at  3231 Broadway Ave Everett, WA (new location for 2018).
Issaquah Reindeer Festival at Cougar Mountain Zoo, from December 1-23 features Santa at 10:30am – 4:00pm (with breaks throughout the day to check on his Reindeer). Photo prices: $15 for the first photo in a special Reindeer Festival photo folder; $10 for each additional photo or $5 for 3 photos using your own camera. Zoo admission: General$13.50 (13+), Seniors $12.50 (62+), Child $9.50 (2-12), under age 2 FREE. Admission discounts: Military, AAA, Prime, Members.
North Pole in Puyallup at the Washington State Fairgrounds, Red Gate Saturday after Thanksgiving through December 23. Santa photo packages begin at $24.95. North Pole Admission: $5.00 Ages 2-99, free for Children under 2. The North Pole is an immersion experience for all kids, and the kid in all of us.  Kids don't want to stand in line at the mall, they want to play — and that is what The North Pole does: let's kids (of all ages) exercise their imaginations, push their creativity, and experience the magic that the Christmas season can bring.
Swansons Nursery in north Seattle features two of Santa's reindeer. Santa photos are available Fridays and the week before Christmas. Reservations required. Make an appointment online. Photo packages range from $24.95 to $44.95. Swansons Nursery, 9701 15th Ave. N.W., Seattle, WA 98117 (Google map).
Seattle Aquarium Diving Santa on Saturdays and Sundays, from Thanksgiving through Christmas Eve at 12:00 PM and 3:00 PM (closes before 3PM on Christmas Eve). Come see Santa diving in the 120,000-gallon Window on Washington Waters exhibit. Bring your camera, take your picture with Diving Santa and stay perfectly dry! Or have your photo taken by our professional photographer so the whole family can be in the picture. Donations will be accepted to help fund DreamNights at the Seattle Aquarium—evenings dedicated to bringing children who have disabilities, are chronically ill or who have special needs to the Aquarium for a special night of exploring the undersea world in a safe and relaxed atmosphere. Aquarium admission: Adult $29.95 (age 13+), Youth $19.95 (ages 4-12) , Child 3 & under FREE . Save $2 when you purchase tickets online in advance. Free aquarium passes are available to Seattle Public Library cardholders or through the Seattle Community Ticket Program.
Seattle Santa travels to your Seattle event location; $150 per hour (minimum one hour) within the Seattle city limits. Contact them for locations outside the Seattle city limits. On December 24, Seattle Santa, Mrs. Santa, friends, and volunteers hit the streets to pass out care packages to the homeless. Seattle Santa's charitable work is entirely self-funded through paying gigs at retail locations and holiday events. Visit their GoFundMe page for more information.
Sensory-Friendly Santa. Already sold out for 2017. Sensational Santa is a sensory-friendly Santa portrait experience for children with special needs, by appointment only. No more noisy crowds and waiting in line with people who don't understand special needs. Your child will get their photo with Santa in a calm and supported environment at their own designated time. Follow Sensational Santa on Facebook or check their website in early November 2018 to book an appointment.
Woodland Park Zoo Wildlights. Santa will stop by WildLights every Friday through Sunday prior to Christmas as well as December 18 through 23. Head over to Santa's Camp to meet the jolly old fella and get your holiday photo with him (photo packages available for purchase). Wildlights admission: ($2 Discount Available Through December 14) Adult: (ages 13+) $11.95, $9.95, Child: (ages 3 – 12) $9.95, $7.95, Toddlers aged 2 and under are always free.
Malls and Stores
Alderwood Mall Santa in Lynnwood at Macy's Center Court. Open daily from Black Friday through Christmas Eve. Don't miss the easiest way to visit Santa—just reserve your time and skip the line! Save $5 on photos when you book between Monday and Wednesday (through December 9th). Reservations and photo purchases are not required to visit Santa.
Arthur & Associates Santa Photos is the reincarnation of the former Frederick & Nelson department stores program. Open daily from Black Friday through Christmas Eve. Packages range from $24 to $65. Now serving third and fourth generation visitors, A&A provides both Santa and Easter Bunny photography for the following Seattle area locations. Photo times vary at each location; check their website for details.
Bellevue Square
Bothell Country Village
Everett Mall
Federal Way Commons
Issaquah Highlands Grand Ridge Plaza
Lake Forest Park Town Centre (uses historic Frederick & Nelson set)
Redmond Town Center
Renton Landing
Southcenter Square
University Village
Factoria Mall South Court in south Bellevue. Open 7 days a week through Dec. 24. Come visit Santa and tell him what you'd like for Christmas! With a variety of photo packages available you're sure to find one the right one for your family.
Kent Station Santa Photos open daily Saturday after Thanksgiving through December 23. Photo packages $15-$45. Get 10% off with this coupon on these dates only: Nov 29 – Dec 1: 4 – 8pm; December 6-8: 4 – 8pm; must bring coupon for discount.
Macy's Santaland in downtown Seattle is open from Black Friday through Christmas Eve. Meet Old Saint Nick and tell him everything on your wish list. Photo packages start at $20.99.
Nordstrom Santa arrives the day after Thanksgiving and is available through December 24. Nordstrom has racially diverse and ASL Santas; call the main store or your nearest Nordstrom for details. Hours vary at each location and the line often closes early in order to serve all customers by closing time (i.e. go earlier rather than later). Wait times are usually shorter at the Nordstrom mall stores in Bellevue Square, Southcenter, and Tacoma Mall. Historically, photo packages begin around $25 (but they don't post prices on their website). So call ahead to confirm before you go.
Simon Malls (Northgate in north Seattle and Tacoma). Santa is available Friday before Thanksgiving through December 24. More info: Northgate at the Ben Bridge Court and Tacoma at the JCPenney Court; Tacoma offers reservations on their website.
Southcenter Santa Photos are available the Friday before Thanksgiving through December 24. Photo packages: $25-$60. Use the "Fast Pass" reservation option and pre-pay for your photo package to skip the lines. Fast=pass reservations are time-specific.