Seattle made aviation history in 1916 when William E. Boeing and Navy Lt. Conrad Westervelt formed the Boeing Airplane company, and hired self-taught aviation tinker Herb Munter to build the company's first aircraft, the B&W seaplane.
Read more about Boeing and Early Aviation in Seattle at historylink.org, and the feature stories that follow to chronicle Seattle's love affair with aircraft and aviation.
The love affair continues to this day. Listed below are some of the major air shows and related events of special interest to aviation afficianados in every corner of the Puget Sound region. The air shows are listed in date order, beginning in May with Aviation Day at Paine Field in Everett and continuing through summer.
Aviation Day at Paine Field in Everett
Aviation Day at Paine Field is an annual Family-friendly aviation event occurs in May. Featured events include entrance to Flying Heritage & Combat Armor Museum and Historic Flight Foundation, heritage and war aircraft air show from noon to 1:30pm, food vendors, free Young Eagles introductory flights for youth ages 8-17—first-come-first-served and space is limited, meet the pilots, view one-of-a-kind aircraft, talk with flight schools, and watch the demonstrations. Free parking with shuttles to the event.
2018 Aviation Day at Paine Field, Saturday, May 19. (2017 prices: $15 per person ages 10+ or $35 per family (2 adults and children). Discount on advance online tickets.
American Heroes Aviation Show in Seattle
American Heroes Air Show is the nation's premier, helicopter–only, FREE aviation event designed to educate visitors about rotary-wing aviation's diverse capabilities.
At Seattle's Museum of Flight American Heroes Airshow, you can learn how helicopters play an important role in law enforcement, fire service, public safety, communications, national defense and homeland security. The American Heroes Air Show features static displays, special presentations and entertainment! Come early to see the helicopters land. Located in the East Parking Lot at MOF; admission to the museum is not included.
2018 American Heroes Air Show at Seattle Museum of Flight, Saturday, June 9. FREE.
Olympic Air Show in Olympia
Olympic Air Show features four hours of aerobatic performances by many renowned air show performers in a variety of noted historical aircraft. Free parking on airport premises fills very quickly, then use street parking in the surrounding areas of the airport– likely some distance from the entrance.
2018 Olympic Air Show, Father's Day Weekend — June 16 – 17. Tickets: $15 online; $20 at the gate. Children 6 and under are FREE.
Gig Harbor Air Show
The Gig Harbor Air Show "Wing & Wheels" at Tacoma Narrows Airport is held during Tacoma's Freedom Fair July 4th weekend. The Gig Harbor air show includes two performances featuring airborne demonstrations and acrobats. Throughout the day, attendees can also enjoy airplane rides and the opportunity to meet some of the top pilots in the industry. It's a perfect outing for the airplane enthusiast or anyone seeking thrilling entertainment.
Air Show at Tacoma Freedom Fair
The Air Show at Tacoma Freedom Fair happens every July 4th.
Tacoma Freedom Fair is the largest and most popular 4th of July fireworks and family entertainment fair in the south sound region. The full day of festivities happens along Ruston Way for two-miles on the waterfront overlooking Independence Bay. The Fair includes a family-fun summer festival with kids activities, live music, and food vendors, plus car show(s), a bike show, and an air show over the water. Whew.
2017 Gig Harbor Wings and Wheels Air Show, Sunday, July 2 from 11am-4:30pm with live flying from 12:10-1:00pm and 2:15-3:125pm. Parking is FREE at Tacoma Community College and Tacoma Dome Station, with FREE shuttle service to the Freedom Fair.
2017 air show on Ruston Way over Commencement Bay from 1:30-3:30 on July 4.
Arlington Fly-In Air Show
Arlington Fly-In is the West Coast's Premier Recreation Aviation Event. Throughout the weekend, there are exhibits, speaker forums, workshops (demonstration and hands-on), the "fly mart" — an aviation flea market, kids activities, and outdoor movies after dark. Sunday, is "Pilot Fun Day", featuring aviation skills drills. Two air show performances are scheduled, for Friday evening and Saturday afternoon.
Online tickets prices: Arriving by car or camper $15 ($17 gate); Arriving by Aircraft $10. Kids 15 and younger are FREE and must be accompanied by an adult. Camping is $30 per night per space, with a minimum of 2 nights and advance purchase only.
2017 Arlington Fly-in July 7-9. Discounted tickets online only: http://www.arlingtonflyin.org/admissions/.
Air Show at Seattle Seafair Weekend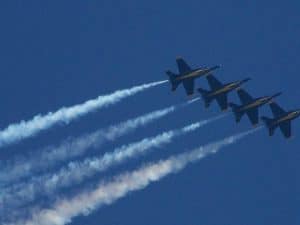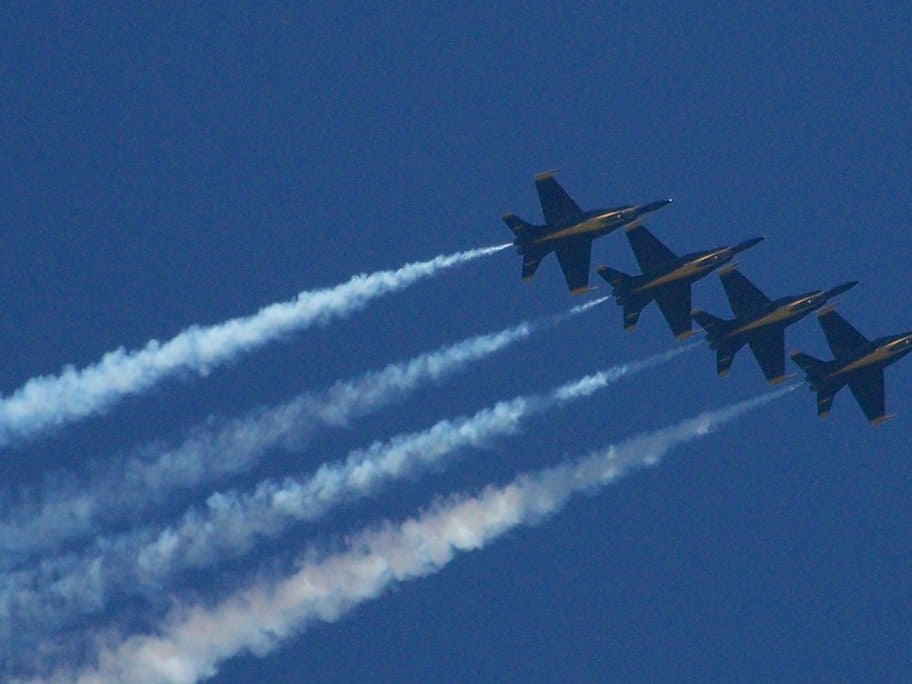 Seafair is Seattle's summer-long festival including dozens of community events held throughout the region.
Seafair Weekend is the culmination of this summer of fun. The highlight of Seafair Weekend is the Boeing Air Show, one of the most impressive air shows in the country, in no small part due to the performance of the U.S. Navy Blue Angels. The Seafair air show also includes the Flying Heritage Collection featuring acrobatic thrills, and other military, vintage, and specialty aircraft. On Thursday, the Blue Angels perform in a short practice. Friday-Sunday features the complete air show.
One Friday, FREE entrance to Seafair is available to everyone, where you can watch the show from the shores of Lake Washington. On Saturday and Sunday, you will need to buy a ticket to Seafair, beginning at $30 general admission. For ways to save on tickets, read our post on free entrance and discount tickets for Seafair Weekend.
You can also enjoy the air show for FREE from many vantage points throughout Seattle, check our list of locations where you can watch the Blue Angels for free.
2107 Seafair Weekend, August 4-6. Friday FREE. Saturday-Sunday General Admission $30/advance. More info: http://www.seafair.com/events/2017/seafair-weekend
Vintage Aircraft Weekend at Paine Field in Everett
Vintage Aircraft Weekend (VAW) is a family-friendly weekend of flying, history, inspiration, food, fun, music, and excitement. Featured aircraft include examples from 1927 – 1957. The main event on Saturday features a Speakers Bureau, live music, flying displays, vintage automobiles and military vehicles, fine food, vintage bicycles, vintage clothing and uniforms, and a host of opportunities for kids and parents to interact with displays and vendors. Sunday provides an opportunity to visit with pilots about their aircraft as they prepare for local flying and the flight home. Throughout the day rides will be offered in open cockpit biplanes and the DC-3. Enjoy BBQ and live music.
2017 Vintage Aircraft Weekend, September 1-3. Tickets at brownpapertickets.com. Pre-purchase ticket prices $8-$12.50 (regularly $10-15).
Lake Washington, Seattle, WA
Historic Flight Foundation, 10719 Bernie Webber Drive, Mukilteo, WA 98275