Seattle's legendary Bumbershoot Music & Art Festival takes place every Labor Day weekend in the heart of the city on the 74-acre Seattle Center campus. Each year, thousands of people from across the country flock to Seattle Center to attend this acclaimed festival, which has become one of the biggest and most-loved contemporary festivals in North America yet maintains its Northwest spirit and innovative roots.
Discount advance tickets and weekend passes go on sale well in advance. The price for tickets goes up the closer we get to the festival dates. So, the sooner you purchase your ticket, the more you will save.
About Bumbershoot
The name Bumbershoot (meaning "an umbrella") was chosen both as a nod to the Emerald city's most famous weather pattern (rain!), as well as a symbol of the overarching mission of this festival: to be an umbrella for all of the arts. From the beginning, Bumbershoot was a multi-disciplinary arts festival showcasing the best of comedy, dance, film, literary arts, music, performing arts, theatre, and visual arts. Since it's beginning in 1971, Bumbershoot has become one of Seattle's largest cultural touchstones.
After a few years on hiatus, Third Stone and New Rising Sun re-launched the Pacific Northwest's iconic arts and music festival. A dual organization model allows the best of both worlds: non-profit Third Stone will engage the community and for-profit New Rising Sun will produce the next generation of Bumbershoot, starting with the 50th Anniversary festival in 2023. The partnership is arranged to assure financial stability and growth for Bumbershoot's next 50 years, celebrating what it means to be an ARTIST*.
At the heart of Bumbershoot is Third Stone, with a mission to foster an inclusive, energized, and sustainable arts economy in the Pacific Northwest through youth education, festival, spectacle, and community driven programming. Third Stone is supported by major donors and grassroots giving that makes the festival affordable again.
New Rising Sun (NRS) is a seasoned team of concert promoters and visual arts producers. NRS's will expand Bumbershoot programming on and off the Seattle Center campus throughout the year.
Seattle Center is the steward of Bumbershoot's licensing rights in perpetuity and home of the festival event for 50 years.
The festival will continue to honor the characteristics of the festival's legacy by recognizing the great diversity in our creativity community. Bumbershoot serves to amplify and honor the artists that call the Pacific Northwest home. Artists shift perspectives, awaken curiosity and, help us realize we are all under the same umbrella, while sharing a passion for visual arts, performance, and music.
More info: Bumbershoot (seattlecenter.com)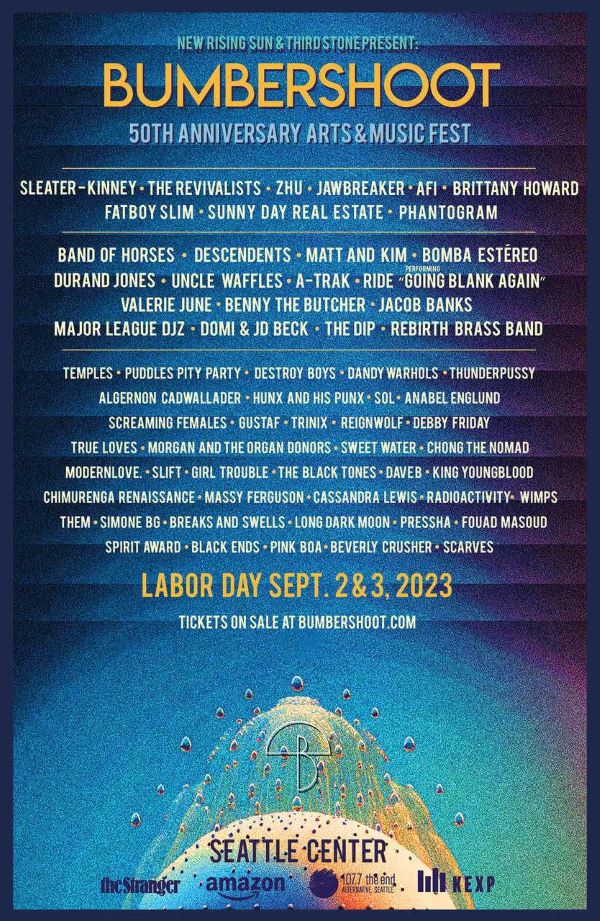 Bumbershoot 2023
Seattle's Arts & Music Festival takes place over Labor Day weekend across the 74-acre Seattle Center Campus Celebrating its 50th anniversary in 2023 under new leadership, Bumbershoot remains a celebration of the diverse art, music, food, technology, and culture that permeates the Pacific Northwest.
When: Labor Day Weekend, Saturday-Sunday, September 2-3, 2023.
Where: Seattle Center Campus. NORTH entry gate at 2nd Avenue and Mercer Streets and WEST entry gate at Harrison St. and 4th Ave N. More info: Seattle Center Bumbershoot Festival
Tickets: Bumbershoot is all ages (no babes in arms please due to high decibel environments). Children under 10 free with accompanied adults (2 free children's tickets per order in the ticket purchase process).
Tier 1 discount tickets. Single day $50. Weekend pass $85. Tier 1 tickets will go on sale February 24 at 10:00 AM PT via bumbershoot.com. Tier 1 tickets are limited and expected to sell out quickly.
Tier 2 discount tickets. Single day $65. Weekend pass $110. Tier 1 tickets will go on sale after Tier 1 tickets have sold out. Tier 2 tickets are limited and expected to sell out quickly.
General Admission tickets: Single day $85. Weekend pass $130.
More info: Buy Tickets to Bumbershoot 50th Anniversary Arts and Music Festival in Seattle on Sep 02, 2023 – Sep 03,2023 (seetickets.us)
What is means to be an ARTIST
Listed below is a sampling of the diversity of artistry you can experience at Bumbershoot.
Augmented reality
Burleskaroake
Cat circus
Contemporary art
Culinary arts
Digital arts
Double dutch
Drag
Extreme pogo stick
Film
Free-range artists
Large-scale sculpture
Make-up artists
Modern dance
Music (of course)
Nail art
Out of sight
Performance art
Photography
Pole dancing
Remote-controlled sculpture
Robots
Roller skating
Sign spinners
Tattoo runway
Vintage clothing
Witches
Wrestling
…and more…
But wait, there's more!
Upcoming music events on our calendar
Listed below are music events of all kinds, from no cover gigs to concerts and outdoor festivals in every music genre. Featured Events are list first each day, highlighted by a photo. Featured events are unique or annual events that we or our advertisers don't want you to overlook.
Sunday, October 1, 2023
Wednesday, October 4, 2023
Thursday, October 5, 2023
Friday, October 6, 2023
Saturday, October 7, 2023
Sunday, October 8, 2023
Tuesday, October 10, 2023
Thursday, October 12, 2023
Friday, October 13, 2023
Saturday, October 14, 2023
Sunday, October 15, 2023
Monday, October 16, 2023
Tuesday, October 17, 2023
Wednesday, October 18, 2023
Friday, October 20, 2023
Saturday, October 21, 2023
Sunday, October 22, 2023
Monday, October 23, 2023
Tuesday, October 24, 2023
Wednesday, October 25, 2023
Thursday, October 26, 2023
Friday, October 27, 2023
Saturday, October 28, 2023
Sunday, October 29, 2023
Monday, October 30, 2023
Wednesday, November 1, 2023
Thursday, November 2, 2023
Friday, November 3, 2023
Saturday, November 4, 2023
Sunday, November 5, 2023
Monday, November 6, 2023
Tuesday, November 7, 2023
Wednesday, November 8, 2023
Thursday, November 9, 2023
Friday, November 10, 2023
Saturday, November 11, 2023
Sunday, November 12, 2023
Monday, November 13, 2023
Tuesday, November 14, 2023
Wednesday, November 15, 2023
Thursday, November 16, 2023
Friday, November 17, 2023
Saturday, November 18, 2023
Sunday, November 19, 2023
Monday, November 20, 2023
Tuesday, November 21, 2023
Wednesday, November 22, 2023
Saturday, November 25, 2023
Sunday, November 26, 2023