MOHAI celebrates the 80th birthday of Seattle rock legend Jimi Hendrix with a spectacular weekend-long event, highlighting the artist's life and career, including a screening of the documentary "Live in Maui," a rare display of some of the performer's most iconic stage outfits, and a pop-up shop of Hendrix-themed gifts and souvenirs.
The MOHAI Jimi Hendrix 80th birthday celebration is November 25-27, 2022 and is included with a daily admission ticket. Regular admission: $22/adult.

More information below includes how to get discount tickets to MOHAI and activities for the MOHAI Jimi Hendrix 80th birthday celebration.
---
Love our cheap ideas? Get our FREE email newsletters.
Choose from daily, weekly, and monthly lists:
---
About MOHAI
Museum of History & Industry (MOHAI) recounts the history of the Puget Sound region in rotating and permanent interactive exhibits featuring about 80,000 artifacts (from their collection of four million). The collection includes objects, documents, and photographs from the area's past. The stories feature our diverse history and highlights innovations for which the region is renowned. More info: MOHAI — Museum of History and Industry, Seattle WA
Discount tickets to MOHAI
Free admission to MOHAI members begins at $60/individual, $95/dual & family: MOHAI — Join as a memeber
MOHAI Access Pass. Available each day to anyone who needs them for any reason. Reserve your Access Pass by calling Visitor Services at 206 324 1126, emailing information@mohai.org, or notifying Visitor Services staff upon your arrival.
Museums For All. MOHAI participates in the nationwide Museums For All program, an initiative that encourages families of all backgrounds to visit museums regularly. Visitors may present an EBT card, WIC, or Foster Family credentials to receive free admission for up to four people.
Open Doors Program. MOHAI's Open Doors program offers free admission to historically excluded communities and aims to reduce barriers to MOHAI exhibits. Through this program, eligible community groups will receive free admission in support of a museum visit.
Free admission First Thursday of each month to everyone.
More info about MOHAI discount admission: MOHAI — Plan a Visit
Free admission with Seattle Public Library Museum Pass.
Teen Tix. Teens aged 15-19 can present their Teen Tix credentials for a $5 admission ticket to MOHAI.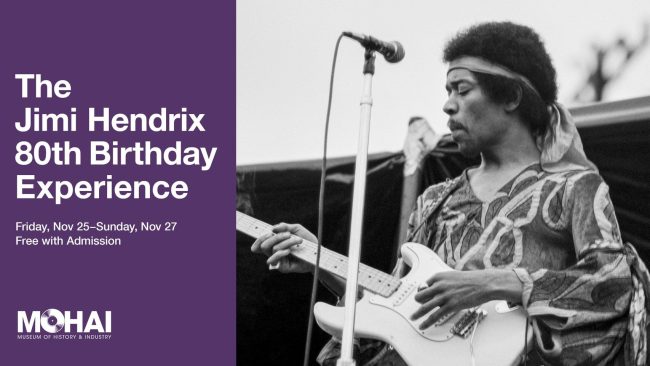 Jimi Hendrix 80th birthday Weekend Events at MOHAI
Included with daily admission to MOHAI.
Film Screening: "Music, Money, Madness… Jimi Hendrix Live In Maui". Screening at MOHAI daily at 10:30am, 12:15pm, and 2:00pm. The documentary is a fascinating account about one of the most controversial independent films ever made. The film chronicles The Jimi Hendrix Experience's storied July 1970 visit to Maui and how they became ensnared with the ill-fated Rainbow Bridge movie produced by their controversial manager Michael Jeffery. Featuring never-before-released 16mm color film footage of the afternoon performances—mixed in 5.1 surround sound—the film presents interviews with firsthand participants and key players such as Billy Cox, Eddie Kramer, Warner Bros. executives, and several Rainbow Bridge cast members, as well as its director Chuck Wein.
Jimi Hendrix Outfits on Display. Viewing of a breathtaking collection of Hendrix's most iconic outfits, up close in the Peggy Corley Showcase on Seattle History.
Jimi Hendrix Listening *Experience*. Channel your inner hippie vibe and unwind in a groovy beanbag chair as you listen to your favorite songs and hear Hendrix's pioneering sound on vinyl.
MOHAI Mercantile's Jimi Hendrix Pop-Up Shop. Find the perfect gift or souvenir at the MOHAI Mercantile's Jimi Hendrix Pop-Up Shop with t-shirts, hoodies, beanies, books, vinyl records, guitar straps, bobblehead figures, and much more!
You might also like:
Calendar of live music events
Listed below are upcoming live music events of all genres on the Calendar of free and cheap things to do every day at Greater Seattle on the Cheap.