Here are our suggestions for books to read aloud with family over the winter break. We've proposed a wide range of themes, including Christmas, Hanukkah, and Kwanzaa stories. Some Christmas books offer Christian stories and others are secular holiday stories, tales about winter, and folktales from cultural traditions from around the world.
Most are heartwarming seasonal stories, but we also included a couple of darker tales at the end of the list. The titles are arranged roughly in order from books for young children to books for older audiences.
All of the books are available at local libraries, some in several formats including audio books and eBooks. Many would also make wonderful gifts.
---
Love our cheap ideas? Get our FREE email newsletters.
Choose from daily, weekly, and monthly lists:
---
The Smallest Gift of Christmas by Peter H. Reynolds. On Christmas morning, disappointed in gift he wished for all year, Roland wishes for bigger and bigger gifts before learning a valuable lesson about being careful what you wish for.
The Birds of Bethlehem by Tomie DePaola. On the morning of the first Christmas, the colorful birds of Bethlehem gather to talk about the exciting events they have witnessed, from the long line of people approaching the town to the stable where a newborn baby lies.
The Reindeer Wish by Lori Evert. Anja raises an abandoned baby reindeer, but as the reindeer grows he wishes to rejoin his own kind. Anja leads him to join Santa's sleigh team.
Daddy Christmas & Hanukkah Mama by Selina Alko. From a child's viewpoint, how the family celebrates two different religious traditions.
Seven Spools of Thread: A Kwanzaa Story by Angela Medearis. Seven Ashanti brothers put aside their differences, learn to get along, and embody the principles of Kwanzaa.
Home for Christmas by Jan Brett. Set in Sweden, Rollo the "wild" troll is tired of chores and runs away from home. After spending time on the tundra with various animal families from owls to moose, he realizes that he wants to be home for Christmas, even if that means behaving himself.
Santa's Favorite Story by Hisako Aoki. The forest animals are alarmed when it appears that Santa might be too tired to make his Christmas rounds, until he recounts for them the Nativity story which gives the holiday its true significance.
The Polar Bear Son, An Inuit Tale by Lydia Dabcovich. A retelling of a folktale about an old Eskimo (Inuit) woman who adopts an orphaned polar bear cub. When villagars threaten the bear's life, he is forced to leave. For years afterward, the bear returns the favor, and brings salmon and seal to his aging "mother".
The Miraculous Journey of Edward Tulane Paperback by Kate DiCamillo. This beautifully written tale is full of memorable characters as it weaves lessons about loneliness, friendship, loss, perseverance, hope, and love.
The Snow Queen by Hans Christian Andersen. Considered by many to be Andersen's best work and one of the few with a genuinely happy ending. This fairytale shows how the strength of a little girl's love enables her to overcome many obstacles and free a boy from the Snow Queen's spell.
Mulan's Lunar New Year by Natasha Yim. It's the Lunar New Year, Mulan's favorite festival. There is a lot to do to prepare for this important celebration, and for the first time, Mulan is old enough to help out. But everything Mulan does seems to turn out wrong. Follow along with Mulan in this story that captures the unique sense of magic, imagination, and possibility.
Too Many Tamales by Gary Soto. Christmas Eve started out perfectly. Snow had fallen. Maria's cousins were coming over to make tamales for Christmas dinner. And Maria tried on her moether's beautiful diamond ring. While making tamales, Maria realizes the ring is not on her finger and she believes that it is inside one of the 24 tamales. The only way to find it is for her and her cousins to eat all of the tamales.
How Far to Bethlehem? by Norah Lofts. The 1965 classic novel retells the story of the nativity from unfamiliar perspectives. It deftly weaves together all the characters of the event, from Mary and Joseph to the three wise men, the shepherds and the innkeeper, and everyone else involved along the way.
The Return of the Light: Twelve Tales From Around the World for the Winter Solstice by Carolyn McVickar Edwards. The winter solstice marks the longest night and shortest day of the year. Celebrations honoring the winter solstice date back thousands of years and occur among many peoples on every continent. Twelve traditional tales from North America, China, Scandinavia, India, Africa, South America, Europe, and Polynesia renew your wonder of the miracle of rebirth and the power of transition from darkness into light.
Winter Candle by Jeron Ashford Frame. A richly textured story of intergenerational and multicultural friendship at an apartment house, woven around a shared candle that lights Nana's Thanksgiving meal, the Danzigers's Sabbath two weeks later, one family's St. Lucia observance, and another's Kwanzaa, before finally guiding a new tenant home during a raging snowstorm.
The "Winter" books (series of four) by Elin Hilderbrand about the Quinn family in Nantucket, MA: Winter Street, Winter Stroll, Winter Storms, and Winter Solstice.
The Snow Child by Eowyn Ivey. A deft combination of fairytale magic against the dangerous realities of homesteading in the Alaskan wilderness in 1918. The beautifully told story is about isolation and hope, struggle and conflict, and the miracle of human connection and community.
Letters from Father Christmas by J. R. R. Tolkien. The authors inventive letters to his children from Father Christmas, recounting tales of life at the North Pole.
A Christmas Memory by Truman Capote. A story from Capote's lonely childhood and moving tribute to his elderly relative about making fruitcakes together at Christmas time is for many people an American holiday classic.
A Child's Christmas in Wales by Dylan Thomas. Nostalgic and captivating recollections of Christmas past by celebrated Welsh poet Dylan Thomas.
Old Christmas by Washington Irving. Irving's "celebration of the celebration" preceded Dicken's Christmas Carol by nearly a quarter century and helped to nurture America's recognition of the holiday. An early review of the 1875 edition claimed, "the book is intended for the fireside of the reading folks of all classes".
The Rancher's Christmas Song (The Cowboys of Cold Creek) by RaeAnne Thayne. A fun, light hearted love story between a school teacher and a single father with twins–who are full mischief and just a bit of a terror when they get together to pursue the latest prank. Then they decide to do a little match making….
A Christmas Carol By Charles Dickens. Read or listen to an audio version of the Christmas classic about a miser who is visited by three ghosts who teach him the true meaning of Christmas.
Hercule Poirot's Christmas by Agatha Christie. On Christmas Eve, the Lee family's reunion is shattered by a deafening crash of furniture and a high-pitched wailing scream. Upstairs, the Simeon Lee lies dead in a pool of blood, his throat slashed. When Hercule Poirot offers to assist, he finds an atmosphere not of mourning but of mutual suspicion. It seems everyone had their own reason to hate the tyrannical old man.
Krampus: The Yule Lord by Brom. Returning home one night, Jesse Walker is surprised to see some goons attacking Santa Claus as he tries to fly away in his sleigh. In the melee, Santa's magic sack falls out of the sleigh and through Jesse's roof. Of course, possessing the sack only leads to trouble as Santa and the sack's original owner, the trickster demon known as Krampus, are both trying to get it back. It's the perfect, dark fairytale for anyone who disdains a cozy, sentimental holiday story.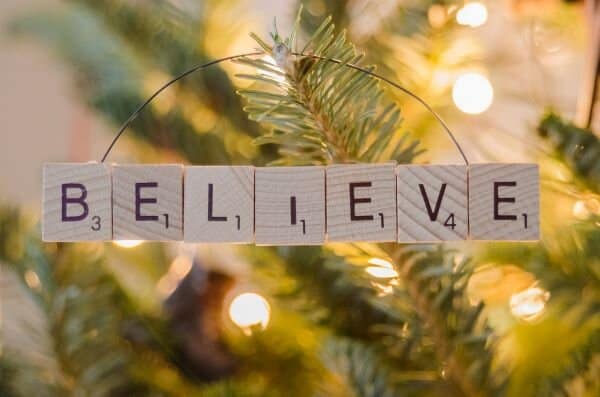 But wait, there's more!
Love our cheap ideas? Get our FREE email newsletters. Choose from daily, weekly, and monthly lists. Click here to subscribe.
Upcoming book sales, author readings, and literary events
(If nothing is listed below, there are no upcoming book sales in our calendar. We update book sales throughout the year as we they are announced by organizers.)