Pilot Flying J is the largest operator of travel centers in North America with more than 750 locations across the U.S. and Canada. The travel centers are committed to connecting people and places with comfort, care, and a smile at every stop.
In Washington State, Pilot Flying J has locations along the Interstate 5 corridor from Canada to Oregon, plus locations in central and southeastern Washington, as well as the Spokane area.
Services at Pilot Flying J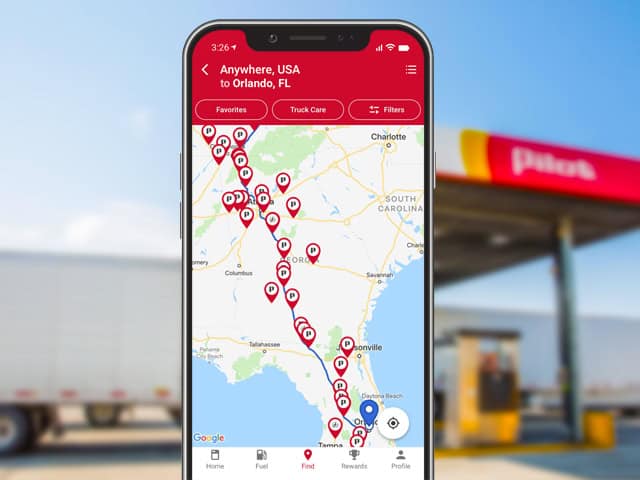 Rewards program. Become a myRewards member to enjoy savings PFJ locations nationwide. Rewards change every month. Your Rewards Card can get you special deals in PFJ stores and restaurants, exclusive rewards on everything from coffee to showers, and special birthday offerings. Buy a refillable PhilMor mug and get your first refill on the house, plus future refills at a discount.
Fuel. Become a myRewards member and receive points and credits whenever you purchase certain fuel, products, or services from any Pilot J locations. The points can be redeemed immediately for things like food, WiFi, and showers.
Pilot Flying J app. Designed to save you time and money while on the road, you can log-in to check out exclusive offers, earn points, and save 3 cents per gallon on gas every time you fuel. Use the trip planner to plan your route, find Pilot and Flying J locations, and view what each store has to offer, plus directions to each location, fuel prices and more. Reserve a parking spot or a shower. Get a free drink when you sign up for the first time.
Food. Enjoy snacks and fast-casual dining options. Grab something quick and get back on the road or sit down and enjoy a hot homestyle meal. Find menu selections from national chain restaurants, including Arby's, Cinnabon, Denny's, DQ, KFC, McDonald's, Pizza Hut, Subway, Taco Bell, and Wendy's. Plus in-house PJ Fresh homestyle food offerings such as pizza, breakfast sandwiches, and great coffee. There's something for everyone.
Professional driver services. For the pro on the go, there are exclusive opportunities. Pilot Flying J Truck Care offers roadside assistance, on-site repair and maintenance services, prime parking, fleet benefits, and business services such as direct billing. While services vary by location, you can find laundry, showers, ATMs, check cashing, games rooms, and other amenities. PFJ supports many organizations that make life better for the trucking industry.
For more information about Pilot Flying J: