Science projects are a key part of learning for all kids. With school closures, many families are wondering how to fill in the gap with science activities at home. "Rosie Research" on Bainbridge Island helps families do just that. What's more, the projects and activities are affordable and fun for kids and families of all ages!
Founded by a husband and wife team, Dr. Erica and Evan have been providing science summer camps and year-round classes on Bainbridge Island for several years. Many of the science projects used in camps and classes are available online for anyone to access for free.
About Dr. Erica
Dr. Erica has a B.S in Engineering Physics and an M.S. in Physics from Miami University. She did her doctorate work in BioPhysics with Boston University. Her thesis was about Jedi mind control.
Okay, not quite. Her thesis was really about optogenetics, which is a similar idea to Jedi mind control and just as cool and interesting.
She wanted to use her extensive background to create fun, easy science projects for kids. Beginning with one simple story about the moon for their daughter, Rosie Research was born.
From that first story, it's grown to serve children around the world. Today, there are dozens of activities, projects, lessons, and experiments available at after school programs, summer camps, and on the Rosie Research website.
About Rosie Research
The goal of Rosie Research is to lower obstacles to STEM learning. Through the thoughtfully designed science projects, kids of all ages can gain knowledge that will continue to serve them as they move through middle and high school, and go on to college.
The fun STEM activities at Rosie Research use items you already have at home or can easily get at the grocery store. Dr. Erica has worked hard to make sure these projects don't require much prep-work and are easy for kids –and parents– to understand. You won't have to spend hours trying to source materials or wait for delivery of specialized items. Just assemble things you have at home and start having fun with science.
The science projects are already kid tested, too! Dr. Erica and Evan's two children help with the design of each lesson by testing the instructions and expected learning.
Rosie Research offers affordable premium activities, as well as many free science projects for home use.
Parents will also love the STEM science toys product reviews on their website. Here, Dr. Erica and Evan share their thoughts on science toys to help you make an informed decision before buying one for your child.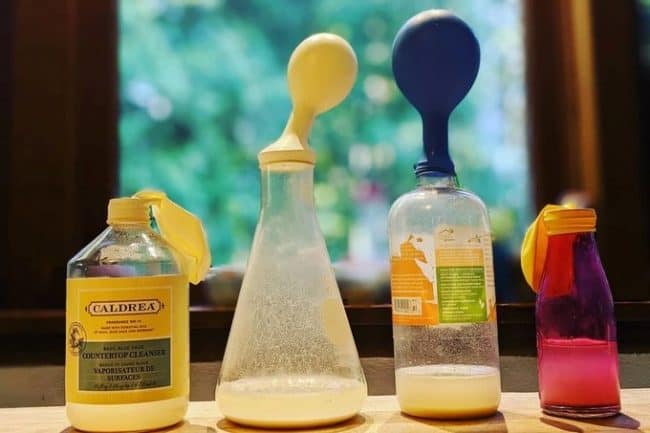 Rosie Research Premium activities
Parents who want to dive-in to science projects can sign up their child for Home Science with Dr. Erica. Weekly plans are available for $1, $5, or $10 per week, per child. This special online programming was created for families experiencing school closures. The live, online instruction includes video lessons, printables, and more. New content is added every weekday. Students can work directly with Dr. Erica and have a chance to chat online with kids around the world!
At other times, Dr. Erica offers after-school programs and summer camps on Bainbridge Island. Visit the Rosie Research website for more information on all of the STEM learning she has to offer your child.
Another super fun, affordable option are Bracelet Kits. Kits include beads, instructions, and information. There are currently kits available for Plant Life-Cycle, Water Cycle, and Butterfly Life-cycle. The resulting product is a cute and educational bracelet. It's a perfect activity for stay-at-home days and a fun memory for families to create together.
---
Love our cheap ideas? Get our FREE email newsletters.
Choose from daily, weekly, and monthly lists:
---
Rosie Research Free Science Projects
Dr. Erica and Evan have created multiple ways to get FREE science projects and activities for anyone to use.
What you'll love about these FREE Science Activities:
Require minimal prep-work using materials you already have at home or can get easily
Science projects cover multiple STEM topics
Can be used by kids at every age
Are kid-friendly AND parent-approved
Help is available at Rosie Research to answer questions you may have
Lots of different science projects for every day of the week and every season
Not sure where to get started? Check out a few of our favorite FREE activities and Lessons:
You'll find dozens more activities on the Rosie Research website.

But wait, there's more!
Love our cheap ideas? Get our FREE email newsletters. Choose from daily, weekly, and monthly lists. Click here to subscribe.