Here are recommended items to by in February. They include winter clothing, perfume, mattresses, electronics., bicycles, boats, and canned foods.
President's Day sales (February 19-22, 2018): holiday weekends are like mini-black Fridays throughout the year with discounts on many items at mall retailers and factory stores on a wide range of goods including clothes and household items. Also look for leftover Valentine's candy, chocolates, décor, and gifts.
Winter clothing and gear: find deep discounts on winter coats, boots, hats, and gloves. In addition, skis, snowboards, thermal garments, and related gear are discounted. You might also like:
Perfume and cologne: January is usually a better month for Valentine's Day gifts (February 14), for sale items. However, in February besides flowers and chocolates, you may find new fragrances being introduced at introductory prices, or bonus fragrance products (buy the cologne, get the matching lotion for free).
Mattresses: There are three best months to buy a mattress, and one of them is February. The other two are May and September.
Electronics: while this isn't the best time to buy computers and televisions, do keep an eye out for closeout prices on last year's models for electronics, including TVs, smartphones, computers, laptops, and tablets. You might also like:
Bicycles: find closeout prices on last year's models for anything from a tyke's bike to an electric two-wheeler. You might also like:
Boats: watch for discounts on last year's models and leftover inventory as well as used boats from anyone who decided to upgrade at the boat show.
Bare root trees and shrubs are dormant plants sold unpotted. You will find then in Puget Sound area nursery's, standing in tubs of sawdust to keep the roots moist. The available selection can include roses, fruit trees, and flowering ornamental shrubs and trees. After you buy them, be sure take them home and plant immediately in the yard, or in a container with proper soil. Bare root plants offer substantial saving over the same item purchased during the growing season. It's especially the best time of year for buying fruiting plants, including fruit trees and berry bushes.
Canned Food Month: Since February is National Canned Food Month, grocery stores will offer some of the best prices of the year. You can also find manufacturer coupons for your favorite brands. It's best to buy only those foods you know you will really use. Most canned foods can be stored up to two years, if they are kept in a cool, dry place.
You might also like:
Here are some easy recipe ideas using canned foods.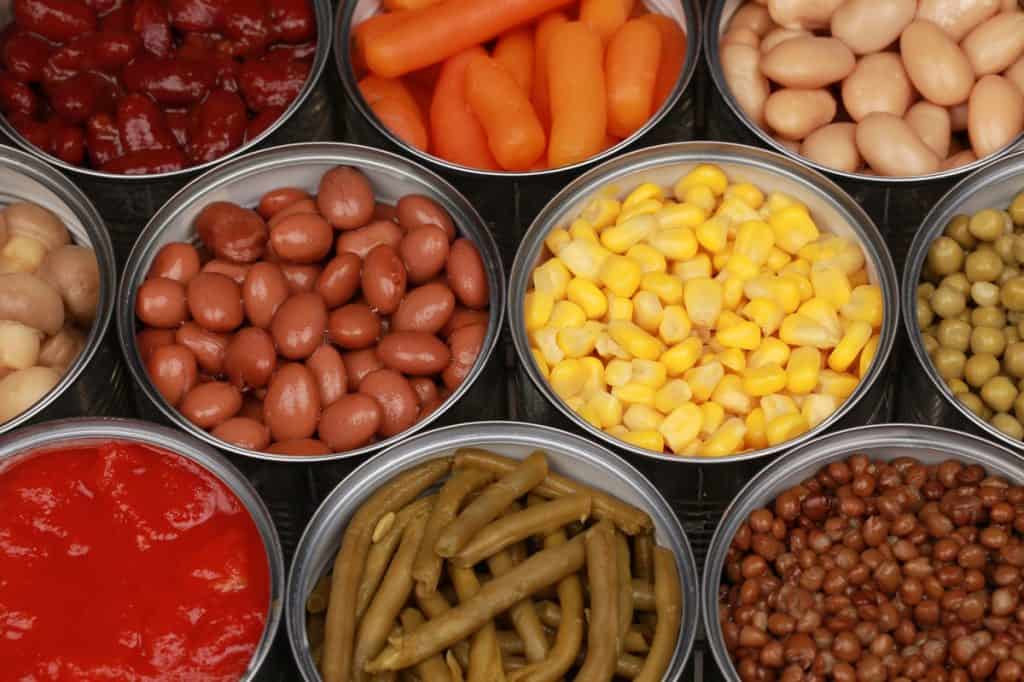 Hummus dip or spread: canned chickpeas (garbanzo beans) processed in a food processor until smooth and seasoned to taste with tahini (optional), olive oil, lemon juice, garlic, and salt. Garnish with Kalamata olives. Serve with carrot slices, cucumber slices, or pita bread wedges. Tahini is expensive and I'm not a huge fan of the flavor, so usually leave it out. This same basic recipe works for black or white beans to make a creamy dip or sandwich spread; change the flavor with any of the Tex-Mex flavorings in the following recipes.
Bean & Corn Salsa: drained canned black beans, corn, diced tomatoes, and green chilies (optional), seasoned to taste with freshly squeezed lemon or lime juice, chopped onion or cilantro, and salt. If you like fruit salsa, add drained, diced canned peaches. Serve with tortilla chips or use in tacos or quesadillas with or without meat or cheese.
Chicken Tortilla Soup: canned chicken, diced tomatoes, enchilada sauce, green chilies, and corn, chopped fresh onion and garlic, seasoned with chili powder, salt, and black pepper. Serve with broken tortilla chips. You can also substitute canned beans for the chicken if you want a vegetarian meal.
Homemade chili: canned black beans, pinto beans, and kidney beans, canned diced tomatoes and tomato sauce, canned green chilies (optional), chopped onion and garlic, seasoned to taste with chile powder, ground cumin, salt, black pepper, and cayenne pepper. If you want a meat chili, brown ground beef and then toss everything else into the pot.
Italian-style Soup: canned white beans, diced tomatoes, green beans, carrots, and fresh spinach leaves, chopped onion and garlic, seasoned with salt, oregano, bay leaf, and black pepper or red pepper flakes. This soup is also good with cooked Italian sausage or chicken.
Sweet and Sour Chicken: canned chicken, bottled barbecue sauce, canned pineapple chunks, and chopped fresh green or red pepper, onion, and garlic, seasoned to taste with salt and pepper. Serve over rice. This recipe probably works better with raw boneless chicken or even shredded rotisserie chicken, but if you like canned chicken, this can be a super easy pantry meal.
You might also like: