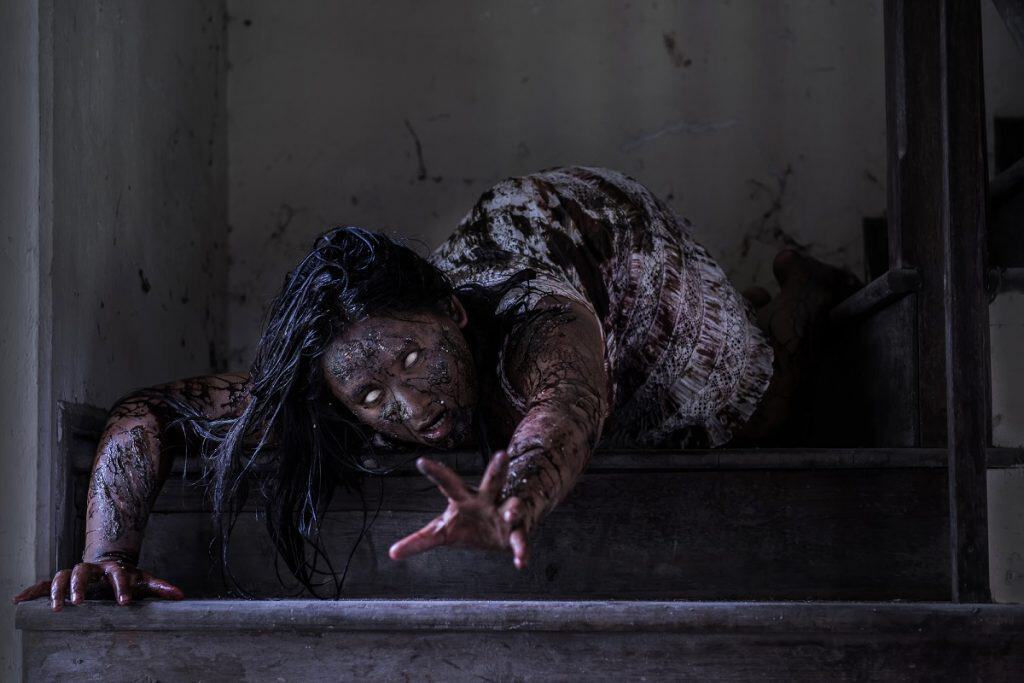 The following list of Seattle and Puget Sound Halloween attractions and haunted houses are very scary and intended for adults and teens. Some locations offer a special "kid's" time, when the lights are on and the scare-o-meter is turned off. Some corn mazes are not haunted, but are dark and can be scary for young children. Haunted houses and scary Halloween attractions are also not recommended for pregnant women or anyone with a physical condition who may be adversely affected by being surprised or frightened. Use common sense and check with your healthcare provider if you have any concerns.
Some of these attractions are indoors, some are outdoors, and some are a mix. Even those that are indoors are often in unheated buildings. Usually the waiting lines are outside; so, bring an umbrella or hood or hat if rain is predicted. In other words, dress for the weather and wear sturdy walking shoes.
The lines waiting to get in at haunted houses are longest on weekends and the week before Halloween. To avoid long waits, plan to go early in October, early on weeknights, or later on Sunday night. Most venues also offer a "fast pass" ticket, which lets you skip the line altogether—but this nicety puts the ticket well above the Greater Seattle on the Cheap limit of $15 admission; in fact, most of these haunted houses already have entrance fees above our minimum. We post them anyway. You know, to scare you. (Menacing laugh here.)
On average, haunted houses take 15-20 minutes to walk through. It can be faster if you are running at breakneck speed, or slower, because you are either frozen in stark terror, or laughing yourself silly because you get the illusion of the events. Only you will know.
Some venues have snacks, concessions, and/or food trucks, entertainment or other distractions while you are waiting in line, and restrooms or porta-toilets. Most have free parking.
Save online fees by buying your tickets at the venue, if available. Many accept credits cards, but some accept only cash and few (if any) have ATMS. Read the fine print before you go.
Every attraction has a strict NO REFUNDS policy. If you leave in the middle of the attraction because it's too scary for you, or don't use the ticket due to illness or death (whether yours or a family member), or don't show up as assigned for timed tickets, or the weather is bad, or any other reason you or Mother Nature can conjure up, you will not receive a refund on advance purchase tickets. No exceptions.
Seattle Haunted Houses
Georgetown Haunted House aka Georgetown Morgue in south Seattle is the scene every Halloween season for one of Seattle's scariest haunted houses. The professional staff at SeattleHaunts.com works all year to create the Haunted House. The show details change every year, although some of the more popular scenes are repeated from one year to the next. Georgetown Haunted House takes place in an actual once-upon-a-time morgue, with a history of routine funeral preparations and cremations, plus some colorful history. Read more about the morgue's history. Open weekends and Halloween, September 22 – November 4. Regular admission is $23.  Save $10 on regular admission tickets if purchased by September 18. Opening Weekend discount tickets (September 22 – 23) Flashlight Fright Night: $15. Kid's Day special: (October 14): free for children with 3 cans of food. Adults are $5 each. Thursdays Family/Friend Day: Purchase five tickets (online only) for $75.00 ($15 each). Sunday Special: Get in for $20.00 if you donate 3 cans of food; purchase on-site. School tours $6 tickets by appointment only: This lights-on tour is designed to give students insight into the different trade and performance disciplines that are used to create such a high-value production. Cost $6 per student with a minimum of 25 students. Up to 6 Teachers or Chaperones per student group are FREE.
Haunted houses north of Seattle
Frightville on Whidbey Island is a haunted house where 100% of the proceeds go to the Boys and Girls Club of Oak Harbor and actors are 100% volunteer. The house is worked on year around to get it ready for the next haunting season.
Carleton Farm Frights east of Everett offers 4X the fright with multiple attractions including Haunted Swamp, Zombie Farm, Dark Maze, and Zombie Paintball. Open Friday-Saturday October 6-28, plus October 29 and October 31. Regular admission $13-$20 per attraction. Discount ticket combos: Triple Fright $33 (save $13). Triple Fright + Zombie Paintball $49 (save $17). Student discount weekend Oct 6-7, save $5 with code STUDENT, plus show ID at door.
Stalker Farms in Snohomish features two outdoor haunted attractions, Blood Rot and Pogo Presents: Abra-Kadaver, plus an outdoor non-haunted, but unlit corn maze. The non-haunted corn maze is an unlit maze that doesn't contain scary people or props. Buy the Double-Dare ticket to get in to both haunts. Buy the Double-Dare No Scare ticket to go through both haunts, plus the dark corn maze. Open Friday-Saturday October 7 October 29, plus Thursday October 26th and Halloween night October 31. Regular tickets $13.95-$27.95; save $0.50-$3.00 when you purchase advance tickets online.
Haunted House and Corn Maze at Thomas Family Farm in Snohomish includes Zombie Paintball hayrides, Flashlight Corn Maze, and Nightmare on 9 Haunted House (formerly Snohomish Slaughter House). Open October 7, 13-15, 19-22, 26-31. Tickets: $14-22. Save with combos: $30-$45.
Mill Creek Haunted Hollow is a residential outdoor yard haunt to entertain and amuse the public. Visitors are welcome to walk through the (grave)yard, enjoy the decorations, and FREE hot cider.  Most decorations come out in early October, but the week preceding Halloween is the full yard haunt. Open dusk to 10pm through Halloween. They also collect non-perishable foods and monetary donations for a local nonprofit.
Nile Nightmares in Mountlake Terrace is an indoor/outdoor Haunted House where you will experience your worst nightmare at one of Seattle's largest seasonal attractions. Face your fears as you make your way through the Nile grounds, but beware of the evils that lurk in the shadows. Survivors can catch their breath in the Food and Fear Garden featuring award-winning food trucks and adult libations. Open October 6-7, 13-14, 19-21, 26-29, and October 31. General admission $22; save $2-$5 with advance purchase. October 29 Family Fun Day: Child admission $10, accompanying Adults Free.
Haunted houses west of Seattle
Kitsap Haunted Fairgrounds in Bremerton boasts 22,000 square feet of indoor space spanning three buildings on the fairgrounds with concessions. The lights-on time 5:00 pm – 6:00 pm is only $5.00 and specifically for young children with the scare factor turned way, way down. Open Fridays and Saturdays in October, plus October 26 and Halloween. Regular admission $15. Save $3 on October 6 & 7 and get in for $12. Get $1 off with canned food donation.
Haunted houses east of Seattle
Nightmare at Beaver Lake in Sammamish created by demented, dedicated volunteers who crawl out of the dark to put on this annual event to leave you screaming. Fear follows as you wind through a trail of terror nearly a mile long that leads you to a dreadful haunted house. Open Friday-Sunday, October 13-29, plus October 30-31. General admission $12. Save $1 if you bring a can of food.
Tacoma haunted houses
Frighthouse Station (formerly Pierce County Asylum) is Tacoma Washington's longest-running (and largest) haunted attraction, located at Freighthouse Station Marketplace near the Tacoma Dome. Frighthouse station offers two separate haunts: The Redemption Haunted Attraction is a gothic walk through the afterlife produced by Haunted Hollow in Snohomish County. Shadows Haunted Attraction (formerly The Pierce County Asylum) is a nearly 15,000-square-foot haunt with three different themes packed into one terror-filled trail. Open weekends in October, plus Monday October 30 and Halloween October 31. Regular admission COMBO PASS (Both Haunts): $25 on-site; SINGLE HAUNT (Your choice): $17. Save $2 when you buy tickets online.
Haunted houses in south Puget Sound
DO NOT BUY tickets to www.screamparkseattle.com in Auburn.

DOESN'T EXIST. NO REFUND. https://www.facebook.com/screamparkseattle/

If you bought tickets and were refused a refund, file a complaint with the Washington State Attorney General's office: http://www.atg.wa.gov/file-complaint
Haunted Forest of Maple Valley (formerly Dark Hallow Haunt) is an eerie outdoor haunted attraction in Royal Arch Park. This non-profit community event is a mile-long haunted trail designed to scare the heck out of you. Proceeds benefit local youth groups. Open Friday-Saturday, September 30 – October 28. General Admission $15.00. Saturday Family Walk admission $5.00 from 5-6pm; a less-scary "Family Walk," for younger (or older, more easily frightened) guests.
Brads Boo Farm in Spanaway is located on the site of an old slaughterhouse and haunted barn and includes over 50 actors and 20 areas including the dark school house, zombie halls, clown maze, and 3D clown building with 3D glasses. Open Fridays and Saturdays in October and Halloween. Regular admission $10 through October 20; $12 October 21-31. Cash only at the venue.
Fright Factory in Buckley is a realistic and horrifying show put on as a charity benefit. This is an all updated haunt at their same location facility. Most of the haunt is indoors. Free parking. Open Friday-Sunday, September 30- October 29, Thursdays October 19 & 26, Wednesday October 25, and October 30-31.  Tickets are $12 cash only. Get $1.00 off admission with canned food donations.
Maris Farms in Buckley (about 25 miles southeast of Tacoma) offers some of Pierce County's best Halloween attractions. The Haunted Woods is Pierce County's longest and scariest outdoor haunt. You'll wander through sadistic scenes set in 12-foot tall cornstalks and then a dark forest where you'll encounter dozens of frightening sights and creepy creatures. The Corn Maze is a nighttime hike through cornfield trails carved in a maze design. Although it is not haunted, it is challenging in the DARK and maybe a little scary. Flashlights are required. Open weekends September 30 – October 29. Regular admission: Haunted Woods $35; Flashlight Maze: $16. Save with online purchase using Maris Farms discount codes. Sunday Night 35% off Discount (October 15, 22, 29) online purchase using discount code SundayBargain.
My Morbid Mind in Lacey began as a residential yard haunt but moved to a barn in 2008, complete with multiple rooms, props, animatronics, pneumatics, and special effects. Open Friday-Saturday, October 26-28, Thursdays October 19 & 26, and October 29-31. General admission $10. $1.00 off coupon by talking a selfie-sponsor photo (details on their website). KIDS WALK-THRU October 28 & 31 $3.00.