The following free (and some very cheap) events, happenings, attractions, and resources for Seattle and the surrounding region provide enjoyable ways to spend time in the Emerald city (or nearby Emerald hills), to enjoy or learn something new, and especially to keep your wallet safely tucked away.
There are suggestions here for many different interests, whether you are young or old, with kids in tow, want to stay indoors, or need to get outside. We zeroed in on things that will provide an hour or more of activity, so some popular attractions aren't on this list (such as the Fremont Troll, Gum Wall, and Kerry Park).
We focused on things you can do with few restrictions, so most of these are open to the public nearly every day, i.e. "always free".
Free Art, Music, and Culture in Seattle and the Puget Sound region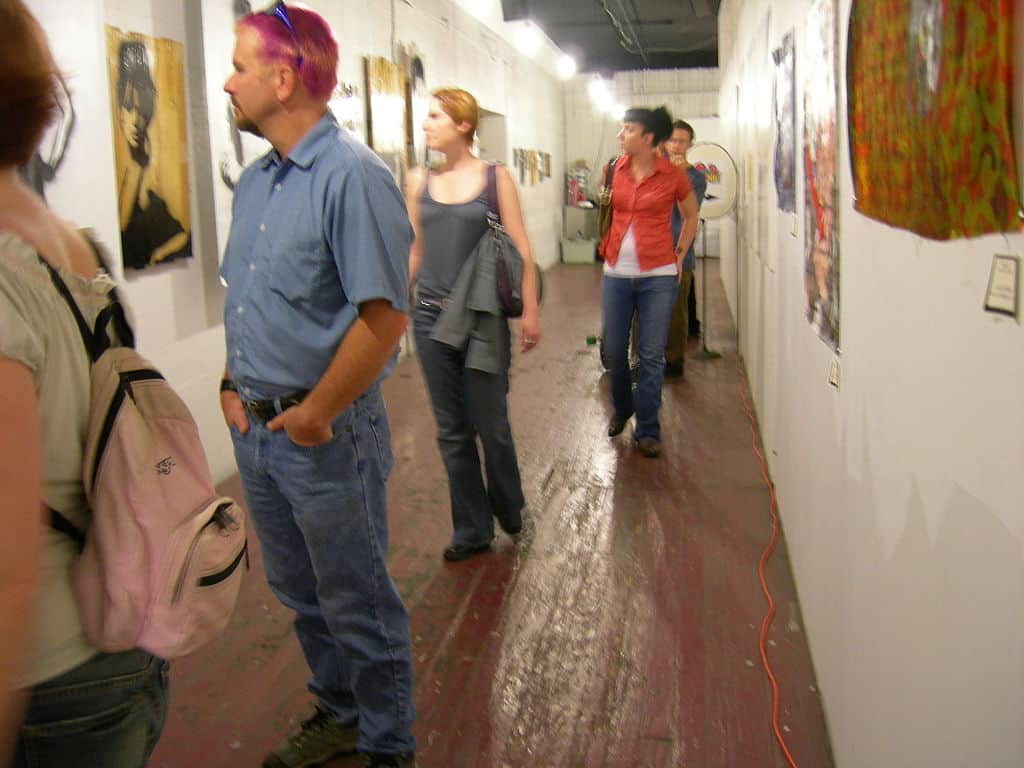 Art Galleries and Art Walks. View art anytime with this Northwest art gallery guide (where viewing art is always free). In Seattle and throughout the Puget Sound region, art walks are held in many cities and neighborhoods. Find out when and where to enjoy free artwalks around Seattle and Puget Sound from Everett to Tacoma. During art walks, participating merchants often offer specials on food, drinks, gifts, and other fun.
Book readings and book discounts. Seattle is one of the most literate cities in the country. Book readings are casual events in bookstores and libraries. An author talks about their work and reads selected portions of the book, usually followed by a question and answer period. Books are always available for purchase at these events, sometimes at a discount. It is also an opportunity to chat with the author and have him or her autographs your book purchase. Most book signings are free. For popular books from well-known authors in high demand, tickets and/or a nominal fee may be required. Check our list of book reading locations.
City Arts magazine is your free guide to the Puget Sound artistic community. The publication provides information about all the arts in the region, including music, dance, theatre, comedy, film, visual art, and literature. The magazine is distributed for free in newspaper boxes, concert venues, libraries, coffee shops, galleries, bookstores, and other businesses in Seattle, Tacoma, and the eastside. Find out more and where to pick up a free copy.
Civic, music, and cultural events. Seattle Town Hall offers a broad program of music, humanities, civic discourse, and world culture events. Many of the public events are free or just $5. Check their website for a list of upcoming events. Note, While Town Hall is closed for remodel until 2018, they have a program of events in other locations. Check their events for details.
Live music. Many popular spots in Seattle offer live music with no cover charges, and we include a few that have a cover charge for some performances for $10 or less. Most are 21+ only; but some have all ages shows, so read the fine print on their website if you plan a family outing. Check our list of free and cheap live music venues in Seattle.
Museums. Check our list of free entrance days at Seattle-Tacoma art and history museums, including a list of always FREE museums.
Free Outdoor fun in Seattle and around Washington State
Biking maps. Here's a list of places to find free bike maps for Seattle, King County and Washington State, plus safety information and bicycle helmet laws.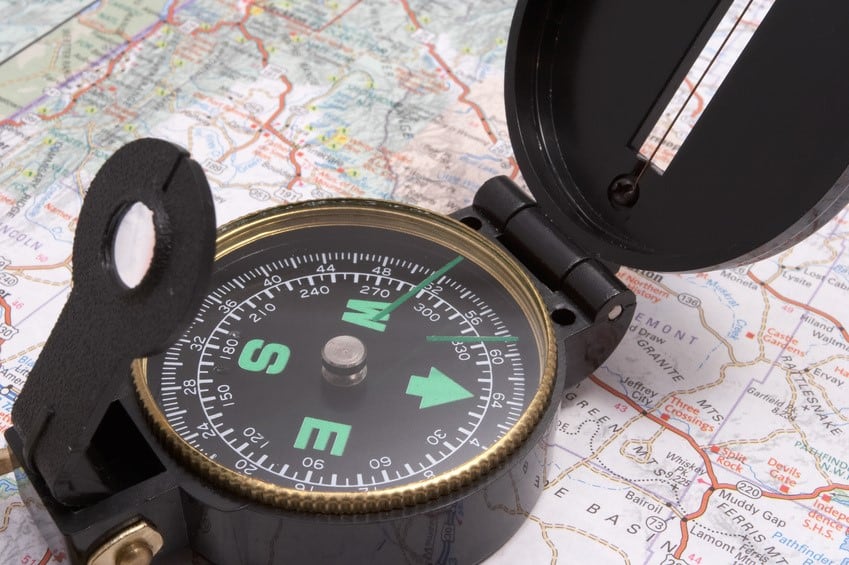 Orienteering — the outdoor sport of navigation. If you like being outside and exploring nature, orienteering is a great way to enjoy nature. Using a detailed map, powers of observation, and compass, you navigate to a series of checkpoints. Prior compass knowledge is not needed to get started. Find out how to try orienteering for free using permanent courses designed by Cascade Orienteering Club. Cascade Orienteering Club is the largest and most active orienteering club in Washington. Based in Seattle, the club hosts orienteering events year-round throughout the Puget Sound region. They offer free orienteering instruction to beginners, in addition to events that charge a small fee.
Walking maps. Get fit while exploring the city using free Seattle running and walking trail maps, as well as walking tours in historic Seattle neighborhoods.
Watch wildlife in Washington State. Watching wildlife is a popular activity for residents, as well as visitors to our state. Washington State has 33 designated Wildlife Areas across the state. Unlike many other outdoor activities, you don't need any special equipment to watch wildlife. Binoculars can get you "up close and personal" view without getting too close, but binoculars are not required to enjoy this pastime. You need only to dress for the weather and have some idea where to look for wildlife. For more details about where and how to view wildlife, see where to watch wildlife in Washington State.
Best Free Parks and Gardens in Seattle and around Puget Sound
Bellevue Botanic Garden is 53-acres of cultivated gardens, restored woodlands, and natural wetlands. The living collections feature plants that thrive in the Pacific Northwest marine climate. Regardless of the season or weather, natural and manmade garden elements change, making the garden delightful to visit any time or the year. For operating hours, directions, parking, and other information visit the Bellevue Botanical Garden website.
Chinese Garden and South Seattle College Arboretum. The 4.6-acre Seattle Chinese Garden in south Seattle is one of the largest Chinese gardens outside of China. The garden is a showcase for four elements that are customary to Chinese gardens: plants, stones, architecture, and water. The garden is open daily and has no admission fee, although donations are greatly appreciated. Visit their website before you go for more information about hours, directions, parking, and other details. After your visit to the Chinese garden, you can take another stroll through the adjacent South Seattle College (SSC) Arboretum, which is also free to the public. Often called "the best kept secret of West Seattle", the 5-acre park sits on the edge of a bluff with stunning views of downtown Seattle, Elliott Bay, and the West Duwamish Greenbelt. The Arboretum is a classroom and laboratory, as well as a garden, because it is used by teachers and students for the SSC Landscape Horticulture Program.
Fort Steilacoom Park, located south of Tacoma, offers 340-acres of trails, which you can navigate on foot or by bike. Four of the fort's original buildings remain and are open to visitors. Events are held throughout the year and many are free or by donation. Check their calendar if you are headed their way to see what they have planned.
King County's park system covers 26,000 acres of public lands, one of the largest regional parks and trails systems in the country, and includes 200 parks, 175 miles of regional trails, and 180 miles of backcountry trails, plus ballfields, playgrounds and pools, as well as lush forests, quiet meadows, and many other Northwest ecosystems. Whatever your recreational interest, you'l find a park for it: hike, bike, picnic, play, or explore. Find maps and other information on the King County Parks website and keep up to date on park activities at the King County Parks blog. Don't know where to start? Here are seven of the best-known parks in King County: Burke-Gilman Trail, Cougar Mountain Regional Wildland Park, Interurban Trail, Marymoor Park, Rattlesnake Mountain, Sammamish River Trail, and Soos Creek Trail.
Kubota Garden features a stunning 20-acres of hills and valleys, the streams, waterfalls, ponds, rock outcroppings and an exceptionally rich and mature collection of plant material. Located in the Rainier Beach neighborhood of Seattle, the garden is owned by the City of Seattle and maintained by the Department of Parks & Recreation. The Garden is open year-round during daylight hours and is free to the public. Guided Tours are offered year-round on the fourth Saturday of the month. More details are found on the Kubota Garden website.
Pacific Bonsai Museum connects people to nature through the living art of bonsai. A grand outdoor setting with the elegance of a fine museum, the Museum boasts over 100 bonsai and the most diverse public collection in North America with trees from Canada, China, Japan, Korea, Taiwan and the United States. Free of charge and open to the public six days a week, this cultural gem offers contemporary and traditional exhibitions. You can enjoy a 30-minute guided tour every Sunday. No reservations required. Donations are always gratefully accepted.
W.W. Seymour Botanical Conservatory at Wright Park in Tacoma opened in 1908. Today, it is only one of three public Victorian-style conservatories on the West Coast. They offer a permanent collection of ferns, palms, figs, bromeliads, orchids and many other rare, unusual and endangered plants as well as changing floral exhibits. Wright Park is a 27-acre arboretum, with a collection of more than 600 trees, which you can find using the very detailed Wright Park Tree Map.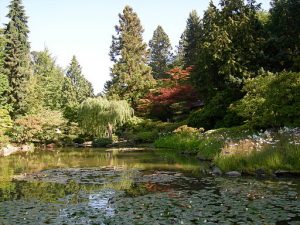 Washington Park Arboretum. Commune with nature at the 230-acre Washington Park Arboretum using the UW Botanic Gardens Trail Map for a self-guided tour, or taking in a free weekend guided tour. Centrally located south of SR520, The Arboretum Park is free and open to the public daily from dawn to dusk.
Technology and Learning
Library services for card holders. Check out library materials including books, ebooks (digital books), audiobooks (recorded book reading), magazines, movies, music, and games. Getting a library card is free for residents, workers, and student in Seattle and surrounding cities. In addition, library systems in the Puget Sound region offer reciprocal library cards; if you have a card for Seattle public libraries, you can get a library card at a reciprocal system such as King County Libraries (including Bellevue) or Pierce County Libraries.
Public events at the library. Visitors to the Seattle area can pay for a temporary library card. However, many library events are free and open to anyone without a library card. Most have limited capacity (so go early) and some require registration. Typical events include: author readings, children's story time, teen events (gaming, music, anime), language classes, ESL and citizenship programs, movie screenings of popular films, computer and technology classes, income tax help, technique classes (anything from knitting to playing the ukulele), and more. Check the calendar at your nearest library for upcoming events. The major library systems in the region are: Seattle Public Libraries, King County Libraries, Tacoma Libraries, Everett Libraries, and Pierce County Libraries.
Wireless internet access at regional libraries. Whether you have a Seattle library card, or library card at any of the other regional library systems throughout the Puget Sound region, you can visit any branch library and access the internet from your wireless-enabled device (laptop or smartphone) using the library's free wireless network. Note: because it is a public network, the free library internet service is not secured for vulnerable activities such as banking and shopping.
Popular Attractions
Pike Place Market "Down Under". While any tourist or citizen is well acquainted with Pike Place Market, fewer are familiar with the labyrinth alleys, dark corners, and underbelly. So next time you head to the heart and soul of the Emerald City, be sure to explore the shops DownUnder at Pike Place Market.
Seattle Center is a 74-acre art, recreational, cultural, and civic center, originally constructed for the 1962 World's Fair (known as Century 21), and gave Seattle world-wide recognition. This legacy from the 1962 Fair remains ingrained in Seattle culture. Many the city's best (and pricey) attractions are here: The Space Needle, Seattle Opera, Chihuly Garden, MoPOP (formerly EMP Museum), Seattle Repertory Theater, and many more. But there are also a number of free things to see and do: Bill & Melinda Gates Foundation Visitor Center, International Fountain, Folklife Festival over Memorial Day weekend, summer outdoor "Movies at the Mural", and Winterfest in December. You can also take a self-guided stroll through the grounds any time, just download the Seattle Center campus map (PDF).
If you manage to get through all of these free and cheap things to do, then check out our list of best free and cheap tours in Seattle and around Puget Sound.
When
December 17, 2017 @ 4:00 pm-7:00 pm
Where
Pacific Bonsai Museum, 2515 S 336th St, Federal Way, WA 98003
Pacific Bonsai Museum, 2515 S 336th St, Federal Way, WA 98003
Reader Interactions